When:
October 27, 2018 @ 3:00 pm – 9:00 pm
2018-10-27T15:00:00-06:00
2018-10-27T21:00:00-06:00
Where:
Sandia Speedway
100 Speedway Park Blvd
Albuquerque, NM 87121
USA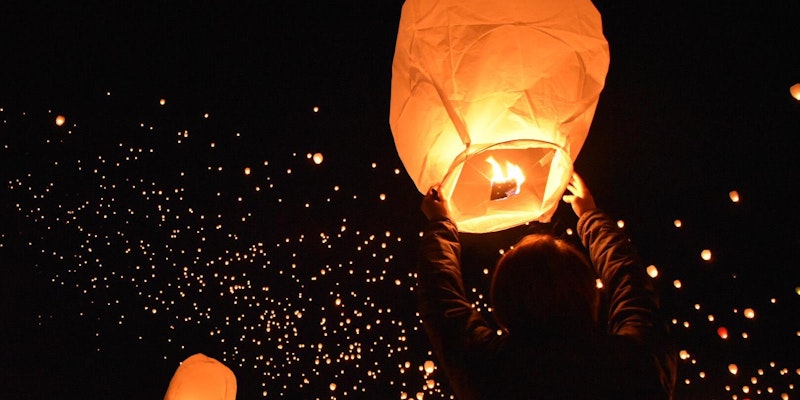 The Lantern Fest takes inspiration from the ancient Asian tradition of releasing lanterns into the air to honor a loved one, bring about good fortune, or symbolize a new beginning. Of course, attendees may sign up for whatever reason they choose, even if it's just to get a cool picture for Instagram. The nighttime event is open to all ages, with registrants 16 and older receiving their own lantern and additional freebies. Though the lanterns are flame retardant, there will be fire-safety professionals on hand just in case. And even though the lanterns are biodegradable, the event's lantern chasers generally recover 99 percent of those released. After the lanterns are lit and sent skyward, participants can spend the rest of their evening visiting food trucks, making s'mores, taking in live music, or shopping for handmade wares from local vendors.
The Lantern Fest is an opportunity for thousands of revelers to join as a community and create an unforgettable spectacle of light. After an afternoon of live music, dancing, and s'mores, when the sun sets and the time is just right, we will light the sky with lanterns representing our highest hopes, deepest regrets, and fondest dreams. Historically lanterns were used to symbolize good fortune, request favorable weather, or celebrate the life of a loved one. At Lantern Fest, you could be with us to turn over a new leaf, or just to capture some likes on Instagram. Families and friends can dance to music, roast marshmallows, and munch on snacks provided by local vendors, all before watching the lanterns float away in an unforgettable release.
At The Lantern Fest, thousands of revelers join together armed with lanterns for one unforgettable spectacle. Before sundown friends and families can enjoy food, live music, a stage show, familiar princesses, face painters, s'mores, balloon artists and more. Then, when the time is just right, we will light the sky with our highest hopes and fondest dreams.
EVENT DAY INFO
Gates open at 3pm. Parking will be $10 at the venue.
Lanterns will fly when the sun goes down. Be sure to arrive early enough to park, check-in and find a place to enjoy the event.
THINGS TO BRING WITH YOU
**Cold drinks and cold food will be allowed in the venue. Absolutely no outside alcohol will be allowed in the gates. There will be plenty of concessions to buy food and drinks.
A blanket or chairs for sitting
A jacket in case you get chilly
A smile, because you're never fully dressed without it
Some money or a credit card to buy a snack or drink
Your dancing shoes!