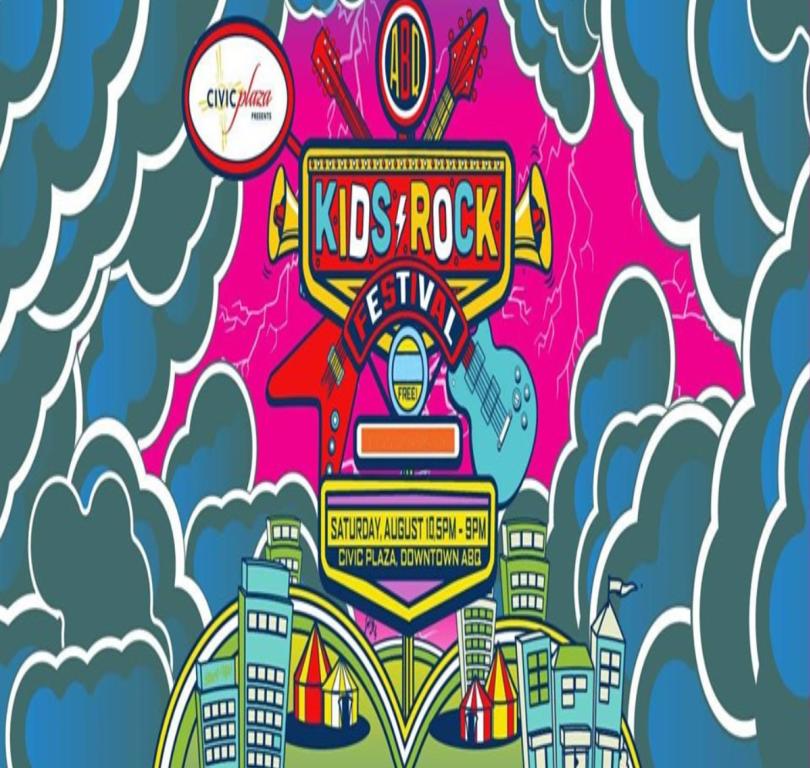 It's going to be a wonderful evening on the plaza. See you here 8/10/19!
Civic Plaza Presents announces the fifth annual ABQ KIDS ROCK FESTIVAL, a fun event with a focus on young people that features a live animal show, musical performances by kids, a rock climbing wall, acrobats, magic, kids' crafts, jumpers, vendors, a visit from and AFD fire truck, games, food trucks and much more (including beer and wine for the adults)! ABQ Kids Rock Festival is also a fundraiser for supplies for Albuquerque Public School students in need.
Check out all we have in store for you:
The ABQ Kids Rock Fest will also feature performances by several students of the ROCK 101 NM MUSIC ACADEMY. This group of kids share a deep love for music and have been learning how to collaborate with each other in a band setting. Their proficiency and ability to rock are impressive. The instructors at the Rock 101 NM Music Academy are accomplished musicians from well-known local bands and their moto is "Empowering Albuquerque youth through music." That commitment will be amply evident at the ABQ Kids Rock Fest.
The evening closes with the Top Kid 2019 – 5th Annual Youth 1.vs.1 Bboy/Bgirl Battle, an urban dance competition for kids ages 7 to 15 put on by The Dancing Turtle and Check-It Productions. A variety of categories are available for kids to compete in with over $200 in cash prizes (details can be found on the Free Soul Battle event page). The Free Soul Battle: Top Kid Edition 2019 is a high energy, fast paced, and crowd inclusive highlight that will be great entertainment for all.
The OFFCenter Arts Arts will be on site with a kids' craft area. Come check out the NEW Civic Plaza fountain & splash pad, along with the new playground. In addition, Civic Plaza's Imagination Playground, a large collection of big foam shapes designed by award winning architect David Rockwell, will be available for kids to play and build with. The City of Albuquerque Public Arts Department will have games and chalk art. This is a *FREE* event but there will be a small fee for the various jumpers, the proceeds of which will be donated to the Albuquerque Public Schools Educational Foundation for school supplies for students in need.
All Civic Plaza Presents events are family friendly / dog friendly / bike friendly. Parking is available beneath the plaza for a small fee, and free parking is available in the area.